Employer Program
If you would like to have the Foundation leadership team to work with you or your employer, please go to Contact Us
Patient Financial Navigator Foundation is thrilled to present Employer Program–.
EMPLOYER outreach:

GOAL: 30 min "Lunch and Learn' with the employees.

HOW TO:
Thru interviewing with the Human Resource department, the Foundation staff will identify 3 (or more) key areas to teach to the employees of the business. After reviewing of the business's insurance benefits and outline of coverage, a 30 mins training will be developed with the HR leadership

Areas to cover:
Healthcare buzz – updates on national healthcare changes, statistics on health issues, discussion points, etc.
Explanation of the business's EOB – how to read the codes, copayment and deductible, amount written off due to contracts, etc.
Other key employer unique features within the insurance plan- like health savings accounts, examples of out of network, etc.
The 30 min 'lunch and learn' is shared with the employees with Q&A at the end.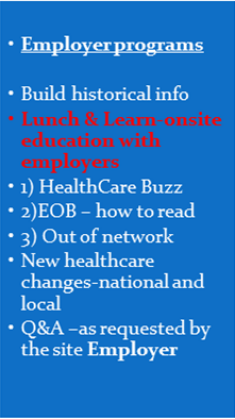 "Transforming the hassle factor in healthcare – one patient, one family, one employer, one community at a time."